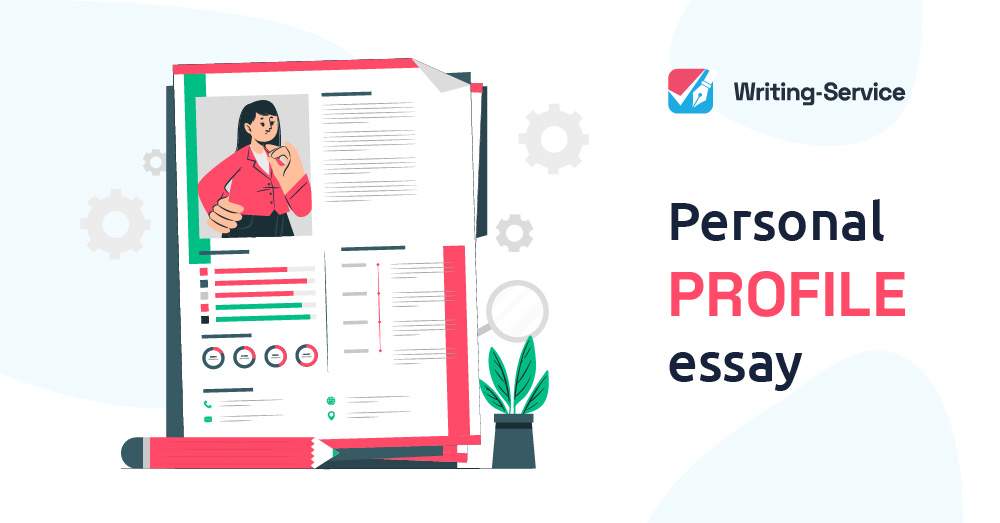 29.10.2022
Submit a Good-Looking Personal Profile Essay
Writing a personal profile essay can be very interesting since this assignment is quite different from other academic tasks. If you have read someone`s autobiography, then you probably know what such an essay looks like. Students pursuing their degrees in journalism usually have to complete a profile essay assignment. To handle this task, they have to interview a particular individual and present his/her profile. When working on a personal profile essay, you need to present a comprehensive and balanced essay about yourself, your achievements, your goals, and your aspirations. Unfortunately, not all students know how to create stellar profile essays. If you do not have relevant writing experience and do not know how to make your paper shine, then you will definitely take advantage of reading our guide. It includes a number of efficient tips and suggestions that will greatly facilitate the writing process. So, if you want to figure out how to write a personal profile essay, just keep reading.
What Is a Personal Profile Essay?
A personal profile essay is a type of academic paper in which the writer talks about his or her life using the third person. In such a paper, you may share your experiences, reflections, and aspirations with the readers. The main goal of such a paper is to share valuable information with your readers and help them understand your personality. Like any other type of academic writing, a profile essay is to have a clear purpose and direction. All ideas you include in your paper ought to be in a logical order. Your paper has to include an engaging introduction, detailed main body paragraphs, and a strong conclusion in which you will sum up everything that was discussed in your paper. When working on such a paper, you need to reveal information that has not been provided before. For instance, you may focus on the following things:
A brief history of the person;
The person`s accomplishments;
The person`s traits;
The impact the person has made on society.
Below, you will find some goals of a profile essay:
To inform the readers about the most significant achievements of the individual;
To describe the individual`s personality traits;
To provide accurate examples of how an individual has influenced other people;
To figure out how an individual has changed the community he/she lives in.
What Is the Purpose of a Personality Profile Essay?
Such a paper ought to clearly explain what makes you different from other people. As such, you may focus on your educational background, academic achievements, hobbies, and skills that help you stand out from the crowd. Such a paper is usually written in a third-person narrative and gives a brief overview of someone`s life history. When working on this assignment, you need to be maximally careful since it has to provide accurate information about your life. Instead of making any assumptions, you need to include accurate facts and support them with appropriate evidence. Before you start working on your write-up, you need to study the prompt thoroughly to find out what exactly you need to write. Most probably, you will need to carry out preliminary research to find appropriate data for your paper. Pay attention that the content of your personal profile essay is to be interesting not only to you but also to your target audience. A profile essay aims not only to give information about an individual but also to provide an account of his or her achievements. For instance, a good personal profile essay example can be on an athlete, who won some competition due to his or her commitment and dedication. Also, you may write such a paper about a famous musician, artist, or even your friend if you want to tell about his or her life. No matter who will be mentioned in your paper, your task is to make your writing comply with the latest academic standards.
Profile Essay Structure
When working on a personal profile essay, you need to pay attention not only to its content but also to its structure. In accordance with the traditional structure, you need to include three major parts in your paper. Let us discuss them in detail:
Introduction. The opening paragraph is to give a brief description of the subject to help the reader understand the scope of the essay. Although the introduction ought to include appropriate background information, it does not have to comprise too many details. Also, the opening paragraph is to include a clear central idea of your essay, which is called a thesis statement;
Main body. In the main body paragraphs, you need to include information about the experiences, achievements, skills, hobbies, and aspirations of the person. Pay attention that when talking about the aspects mentioned above, you need to support your words with appropriate examples;
Conclusion. The final paragraph of your paper will make the greatest impression on your audience. Thus, it has to be clear and engaging. At the same time, you do not need to add new details in your conclusion since it has to just summarize the paper.
By following this structure, you will be able to write a clear and comprehensive personal profile essay. If you want to get some additional suggestions for writing, you may find them below:
How to Write a Profile Essay?
By following the steps provided below, you will greatly facilitate the process of writing a profile essay:
Choose a good topic. If your tutor has allowed you to pick up a subject for your write-up, you need to choose the one that will help you reveal your ideas in an organic manner;
Brainstorm your ideas. Before you start working on your paper, you need to think about a person you will describe. By choosing the right perspective for writing your paper, you will greatly facilitate the writing process;
Formulate a strong thesis. After you are done with brainstorming, you need to formulate a thesis statement that will become the central idea of your write-up. Basically, it is a one-sentence claim that will help your readers understand what your paper is about;
Think about a hook you will include in your introduction. To make your introductory paragraph engaging and captivating, you need to add a hook to it. It can be a rhetorical question, quote, or fact that will make your reader follow the rest of the text;
Use your opening paragraph for grabbing the attention of your reader. Consider that your introduction will make the very first impression on your target audience. Thus, it has to be free from irrelevant information;
Use the main body of your paper to provide your reader with accurate facts. The main body is the lengthiest part of your paper in which you have to reveal the personality of the individual from different perspectives;
Do not forget to proofread your text. After your paper is ready, you need to take some time and edit it. Only after making sure your test is free from any flaws, you may submit it.
Personal Profile Essay Sample
Profile: Crispus Attucks, Elizabeth Keckley, Harriet Tubman and Muhammad Ali

Question 1

Crispus Attucks was born in 1723. He was killed during the 1770 Boston Masaccre when a fight broke out between British redcoats and Bostonians. He was the first person to die for the American Revolution. Muhammad Ali was born on January 14, 1942 as Cassius Marcellus Clay, Jr but altered his name in 1964 after he converted into Islam. In 1967, there was the United State war at Vietnam and Ali refused to join the armed force citing religious reasons. Elizabeth Keckley was a slave in February 1818. She was sexually assaulted in her teen years. Keckley's son was killed on August 10, 1861 after he joined the Union Army. Harriet Tubman served with the union army cooking their meals and attending to their injuries. She was also a spy and the first woman in America to direct armed military aid where they freed Sea Land slaves and black men.

The lessons learnt from the above described people is that despite of one's social standing, hey have the right to stand up to what they believe in. This may cause them a lot of suffering but it is leads to liberation and personal fulfillment.

Question 2

There is a transformation that takes place in both the nations and individuals when war comes to an end. This transformation has often been a positive one in virtually every instance. All these profiled persons have had a positive impact on the United States as an effect of the wars that took place in their respective times and ways. For instance, in the case of Crispus Attucks, his involvement in the American Revolution and, therefore his death in the Boston Massacre, resulted in even more fuel in the American desire to pull out of the British Empire. Having died a martyr, Attucks propelled the American Revolution and finally the fight for Independence. He exemplified African Americans and his death motivated the blacks against slavery and civil rights.

Question 3

The profile that I found most compelling is Crispus Attucks. This is because of his rebellious character. Even after being declared wanted and unauthorized to board water vessels, he kept conducting his business and boarding the vessels within close proximity to the British. Furthermore, despite being categorized as a criminal by the British, he instantaneously became a hero and an example upon dying the first person in the Boston Massacre.
To Sum Up
Writing a personal profile essay can be difficult, but you can always get professional help from our writers. If you got stuck on writing your paper and do not know how to proceed, you need to get in touch with our writing team and we will address your needs in the shortest way possible. Our proficient writers have vast experience in creating different types of academic papers and they can provide you with a brilliant piece. So, if you want to order a good-looking example of a personal profile essay, do not waste your time and give us a call. The result of our work will surpass your expectations!