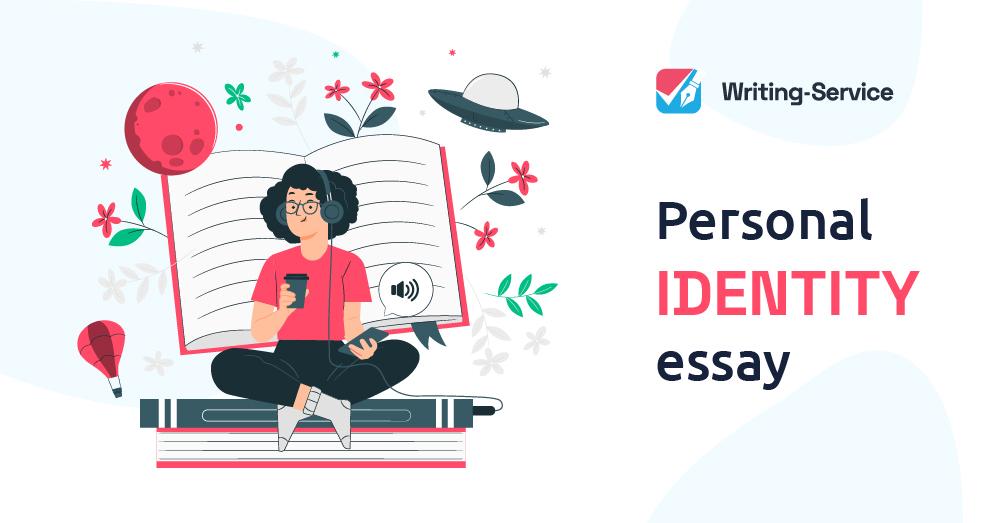 24.06.2022
Submit an Engaging Personal Identity Essay with Our Help!
Writing a personal identity essay can be pretty challenging. At the same time, it is very exciting for a student as such a task enables an individual to figure out what are their values and beliefs. All people think about their identity at a certain period in their lives. When it comes to the manifestation of self-identity, there are many restraining factors. These factors are formed along with positive and negative experiences gained by an individual.
In the educational environment, students are supposed to write various essays that define self-identity. Such a task helps a student articulate different theories and figure out how they match their personal beliefs. If you have never worked on such an assignment before, then we recommend that you study our guide. It will help you understand how to present your personal identity philosophy from the best perspective.
What Is Personal Identity?
According to the philosophical standpoint, this is what makes a person who they are and explains what ideas and beliefs differentiate one individual from another. Many famous philosophers tried to analyze this concept complexly. There are many schools of thought that analyzed personhood and defined the qualities that individuate various people.
In other words, personal identity is a sense of the self that humans experience throughout their lives. On a basic level, humans perceive themselves as individuals seeking to figure out who they are and where they are going. When it comes to the social level, humans view themselves as the members of a particular social group sharing the same qualities as other members of the group. In this case, the inner self is shaped by communication and relationships with other individuals.
What Aspects Affect the Identity of an Individual?
When an individual is growing up, there are certain aspects that influence his or her personality development. The factors affecting self identity are as follows:
Values;
Environmental aspects;
Personal beliefs shaped by culture or family environment;
Religious beliefs;
Friends or family members who have a strong impact on an individual.
Positive and Negative Factors Affecting Human Self-Identity
The self-representation of a person greatly depends on the environment that he or she grows up in. As such, negative environmental influences will lead to lower self-esteem and a lack of confidence. An individual who grows up in a positive environment is often confident and open-minded. When a child grows up, he or she meets new people. Teachers, friends, and classmates help a child obtain new values and beliefs, which often remain in adult life.
What Should I Know About My Personal Identity?
People make various lifestyle choices every day, which are the manifestation of their personality. Recent studies suggest that:
Human personality traits, emotions, and beliefs are often determined by DNA that is passed on from parents;
Personality traits are defined by the genes of individuals;
Demonstration of violence can be less empowering and negate positive development of personality;
Adult often faces pressure from the community and family beliefs, which forces them to put on a different identity.
Characteristics of Self Identity
The theories of personal identity that appeared in Postmodernism state that self-identity is influenced by external social factors. This means that the person should wear a mask following what is right. Therefore, an individual creates the self-representation that is forced upon them by society. For example, in the United States, consumer culture has been found to affect the decisions Americans make. In their turn, these decisions shape their lifestyles.
Physiological aspects
When it comes to forming an individual, physiological aspects play a significant role. For example, when growing up, an individual is affected by parents and other adults absorbing the social norms and traditions. What is more, children are influenced by their peers, as well as social norms existing around them.
With the beginning of adolescence and puberty, hormonal influences become dominant in human self-representation. Thus, along with existing social effects, hormones influence the emotions of the individual. Close communication with the opposite sex enables an individual to develop positive self-esteem.
Social aspects
As a person progresses from young adult years to a more mature period in their life, the education or career decisions greatly influence his or her self-recognition. Usually, successful marriage or career choice helps an individual succeed in his or her endeavors. At the same time, by choosing the wrong career, an individual will suffer from a lack of confidence, low self-esteem, and other mental problems. Therefore, it is critically important to choose the right profession. When choosing a future career, you need to consider the one that is rewarded not only monetarily but also mentally.
Psychology crisis types
In some cases, when an individual notices that the existing social norms do not fit his or her personal beliefs, a crisis can emerge. This is one of the major problems of personal identity. Also, the differences in culture, traditions, and beliefs may negatively affect the relationship between two people. The conflict of identities can become a great problem unless it is solved with the help of a compromise.
Sense of Self
When working on a self identity essay, you may mention how an individual can express themselves through the development of personal qualities. On the web, you may find a lot of essays written about personal motivations, experiences, aspirations, and beliefs. By recognizing the instruments used by other people, you will find it easier to explore yourself.
Main Elements of a Personal Identity Essay
When working on an essay about developing personal identity, one should include the main things provided below:
Name. The name is a particularly important thing in helping us explore ourselves. To write a good-looking essay on identity, you need to think about your name and understand what it means. If there is a story behind your name, make sure to tell it. By letting your audience know about the origin of your name, you will make your essay look engaging;
Family. This may seem obvious, but our families greatly shape our views and beliefs. Thus, when working on your essay about identity, you need to tell a few words about your family. Everyone has their family story – tell about yours;
Your personality. In this part, you need to let the audience know how you see yourself. What kind of person are you? What experiences have shaped your personality and defined your beliefs?
As well as any other piece of academic writing, your personal identity philosophy essay should include a clear thesis statement that will help your reader understand what is the work about.
How to Write an Identity Essay?
If you were asked to write a personal identity essay, you need to follow the traditional structure:
Introduction. Like any other academic paper, you need to begin your essay with a brief overview of your intended topic. Make sure to provide some background data to help your reader understand what points you are going to discuss in your paper. Finalize your introductory paragraph with a clear thesis statement. Your thesis should evoke the curiosity in your reader and clearly state the purpose of your work;
Body. A good personal identity essay example should include information about your family, name, experiences, etc. In other words, you need to write about the people and things that have shaped your personality. Make sure to include the most relevant and interesting information in your paper to make it clear for your reader. To keep your readers engaged, you need to be creative and detail-oriented telling about various aspects of personal identity;
Conclusion. In the final part of your paper, you need to summarize the major points of your essay without introducing new details. Remember that your conclusion should wrap up your narration.
When your essay is ready, you need to take some time to edit it. When revising your draft, make sure all of your ideas are put in a logical order and the text is free from grammar and spelling mistakes.
Now that you know the basic principles of writing personal identity papers, you may start working on your assignment.
Personal Identity Essay Example
Are you having difficulties with writing your personal identity essay? Boost your creativity by studying the example written by a talented writer. In case you don't want to work on this task on your own or you have no idea how to develop self identity, you can always purchase expert writing assistance at our legit writing service.
Our world has different cultures and societies, which consist of people that have individual identities although they represent similar social groups. Their identity is the result of the influence of various factors that shaped their behavior, values, aims in life and moral code. This paper presents an individual analysis attempting to define my own identity and the causes that impacted on its accumulation. The question of defining a personal identity may be hard to explore because it is always easier to talk about the others instead of analyzing one's individual life and social and psychological aspects. However, the analysis demonstrates that from the one hand, I am proud to be a representative of a Kuwaiti nation, but at the same time, my family values and the intentions to travel shaped the core of my identity. The experience of defining identity is useful because the self-analysis is useful for people in terms of enhancing their vision of themselves as well as the milestones of their past and their future aims.

My identity is a result of the combination of several factors that allow me stating that I am honored to represent my country and my family with loving parents and other relatives. Reflecting on the process of my self-analysis, I recognize that the fact that allowed me comprehending my identity is that now I live in a totally different country. Thus, I can perceive a contrast almost in any aspect of my today's life starting from the surrounding people and up to the laws of the country and the surrounding climate and nature. The last aspects are also important to me because I consider that the weather in my country shapes people because it is very hot throughout the year. As a result, on the one hand, people have to assist each other to survive, but they also have to find the inner power for solving possible difficult situations in challenging weather conditions. In this regard, my grandfather once said that I should be as a plant growing in the desert under the boiling sun. This means that despite my life may be hard, I have deep family roots that morally support me and give me the energy to continue my deeds and aspire for my aims. This metaphor has a direct reference to the climate in Kuwait, which is extremely hot and challenging because of it. However, I am proud that my because I think it makes the Kuwaiti people who they are, strong and ready to assist each other. Also, it made me who I am because I can endure challenges of life feeling a distant support of my family and making deeds that make them feeling proud of me. Thus, if I got in any puzzling situation in life, I analyze it from the point of view of my grandfather, who is a wise and honorable person. Consequently, I seek solutions that would make him feeling proud of me, and he is glad that I bear his name as a part of my name. Therefore, my family and grandfather, in particular, have a great influence on my life and the aspects that constitute my identity.

Although I have no spouse and children yet, I recognize that I have a connection with my family and my ancestors. Even if my parents do not see my actions, I feel that if I do something morally wrong, this would negatively affect their reputation. Also, it would lead to the fact that my future son would be ashamed of having my name as a part of his name. Thus, I value honesty and justice, and I respect people, who do the same disregarding their religion or other aspects. Reflecting on the core of my identity, I recognize that it is a family connection because a family is the most valuable thing in our lives. I have a big family with lots of relatives, each of which is different, but we bear similar part of names, which make us feeling personally connected and proud of this. On holidays, we gather together and eat traditional foods, feel the joy of supporting our connection in real life. The impact of this connection is so strong that I feel it even being in another country that is thousands of kilometers away from the family. Of course, there are technological means that allow having conversations with them, but I recognize that this intimate connection requires no direct contact. The feeling of attachment to the family, respect for human values, justice, preference to thorough thinking and analysis and other is a part of me because they were given to me by my mother and father. As a result, referring to these qualities and using them in typical daily situations, I feel that I continue the deeds of my ancestors and my family. This feeling constructs the basis of my identity because it serves both as a support and guidance, and I wish to transfer it to my children. However, this is not the only one aspect that allows me realizing who I am.

The recent influence that significantly impacted my identity is traveling because it enriched my vision of the world and my place in it. Several years ago, I lived mostly at one place but gradually started flying with my father on his business trips and exploring the world. Nowadays, this interest to new places and new people is almost impossible to satisfy because I know that there are a lot of places that are not explored by me. In this sense, the possibility to study abroad, in the US, is the aspect that allows me feeding my inner hunger for new places and new feelings associated with the world and me in it. Also, I feel almost similar pleasure from studies as from visiting new places because knowledge makes me a more experienced person and a skillful professional. I feel that I follow the path chosen by my father because I study business and would assist him in the future. Consequently, in the future, I will combine both mentioned aspects and would have business trips around the world. Therefore, my family would be proud that I continue my father's business, and I would be happy to visit numerous places around the world. I am a person that respects humanitarian values, is open to the world and ready to meet new challenges and cope with them making the family feeling proud of me.

Summarizing the presented facts, I come to a conclusion that my identity is a result of complex influences in my life, which are mainly my family, culture, and travelling. Thus, strong family influences lead to the fact that I act from the position of respect to others, justice and adherence to humanitarian values. Such deeds go along with my family values and make me feeling proud of my ancestors. Moreover, the climate of my country impacts the culture of it citizens and me as well. It leads to the fact that I can endure a lot of troubles in life because I have enough inner power and the support of my family. At the same time, I constantly seek new information about the world and wish to visit many places broadening the horizons of my knowledge. Therefore, the identified issues construct the basis of my identity and make me feeling proud of my country, and my family.