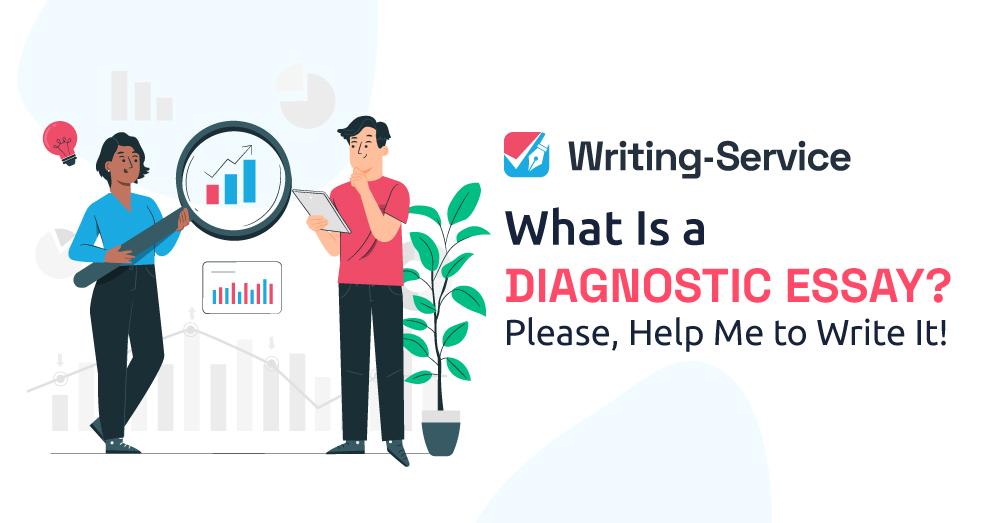 07.11.2020
What Is a Diagnostic Essay? Please, Help Me to Write It!
What Is a Diagnostic Essay and How to Write It?
A diagnostic essay is one of the common tasks in the academic curriculum of many students. As its name suggests, a diagnostic essay aims to diagnose the student`s writing and analytical skills, as well as their ability to express their ideas in a logical way. Pay attention that compared to many other academic papers, a diagnostic essay does not require researching because the answers should be given fast. So, what is a diagnostic essay? In our guide, we will provide you with the answer to this question, which will help you boost your diagnostic essay writing skills.
The primary purpose of a diagnostic essay is to evaluate the student`s level of knowledge, as well as their writing skills. Very often, the time for completing such an essay is pretty limited. However, within a pretty short deadline, the student should demonstrate his or her awareness of the topic, as well as their ability to meet the professor`s instructions. Such an essay will be evaluated in terms of content, structure, mechanics, and formatting. If you want to receive a good grade for your paper, you should be maximally attentive to the professor`s guidelines because your paper will be assessed based on how your instructions are followed.
How to Write a Diagnostic Essay?
Now, when you know what is a diagnostic essay, it`s time to study a couple of effective tips that will help you cope with this task. Basically, there are three aspects that will help you tackle your diagnostic essay assignment: good knowledge, excellent time-management skills, and a professional approach. Taking this assignment fast and professionally is the shortest way to success. In fact, no one can be well-prepared for writing a diagnostic essay since it requires a very fast reaction. If you received such a task, you should know exactly what to do with it. Luckily, having good writing skills and being able to present your ideas in a clear way, you will definitely increase your chances of getting a good outcome. Also, it is highly recommended to study the well-written samples of diagnostic essays since it will help you understand how such an essay should be written. This strategy will enable you to arm yourself with the helpful tips and secrets that will allow you to receive the best grades at your college or university. Gathering interesting ideas and insights from different sources will provide you with the drive and stimulation to work on your diagnostic essay assignments. If you are looking for a good diagnostic essay example, then you have found the right place. Feel free to check the examples of diagnostic essays available on our website and gain writing inspiration!
Find the Best Diagnostic Essay Topics Here!
You can either find a topic for a diagnosing essay in your prompt or you can come up with it on your own. If your tutor allowed you to select a subject for your essay, you should be very attentive because the topic choice will influence the entire writing process. In fact, a diagnostic essay can be written on everything. However, there are a few requirements for choosing a subject for your essay. First, it should be interesting both to you and your target audience. If you choose a topic that does not seem attractive to you, you will turn the writing process into boring torture. On the contrary, by being engaged in your topic, you will be able to enjoy the writing process achieving the best results. In case you experience any difficulties on the stage of choosing the topic, feel free to discuss it with your tutor and they will gladly provide you with the necessary guidance. If you lack creating ideas, you may have a look at the list of great diagnostic essay topics provided below:
History Topics
Discuss the primary causes and consequences of the Industrial Revolution;
Evaluate the relations of the United States with Europe in the 18th century;
Analyze the role of slavery in the US development;
What famous historical events are related to your own family story;
Choose the most efficient US President and analyze his role in the US way to success.
Literature and English Topics
Pick up the most famous Enlightenment poet and analyze his or her work;
Has the literature impacted your life? If yes, explain your answer;
Discuss the book that had played the most significant role in your self-identification?
Analyze the main steps of your writing process;
Read "To Kill a Mockingbird" and analyze how the author addresses the problem of racism?
Compare literature to any other art.
Discuss the literature of the Romantic era taking "Frankenstein" as an example.
General Topics
Discuss the episode of your life when you were outside your comfort zone. What feelings and emotions did you experience?
State the social problem you would like to address and explain the instruments that will help you with it;
Name the biggest threat to humanity nowadays. Explain your choice;
Are you a leader? How to develop good leadership skills?
Analyze the role of religion in human life;
Is it ethical to kill animals for the purposes of testing? Support your answer;
If you had a billion dollars, what would you purchase?
Do you agree that democracy is a perfect political state?
Tell about your favorite movie. What has made you watch this motion picture several times?
We do hope that our ideas will help you boost your writing inspiration. You can either take some of them for writing your diagnostic essay or use them as a basis for your own ideas. Good luck!
Diagnostic Essay Sample
Check out a great example and you will definitely understand what a diagnostic essay is!
One of the most memorable writing experiences dates back to the times when I was in 10th grade and decided to take part in writing competition. I was not very good at writing though this process delighted and amused me, so when I learned about the opportunity to write anonymous essay and have a chance to get a prize I had no doubts. I came across the announcement about the competition accidentally and there was just one week for me to do it. Though there was not much time and I was busy with my studying I decided to try myself and see how good am I.

I was so enthusiastic and excited that I started writing on the same day. The requirements stated that the essay should be dedicated to the topic of understanding the meaning of being a resident of my country and should be from 7 to 10 pages long. For me it was an immense length and a true challenge that took 5 days to be completed. Each day I dedicated two hours to writing the draft. In fact, on the first day I just completed the plan or skeleton of my work singling out the points that I am going to address. During next four days I was typing my thought into the computer. When the draft was finished, I was not worried about the content though I was afraid that I might lose some points in grammar. I asked my friend who was very good in grammar to look through. With her feedback I checked my essay and printed out the final copy to send to the jury of the competition.

Though I did not win, I took the third place and was really happy. I still think that it is partially the merit of my friend who helped me with the grammar. This writing experience was significant to me in two ways. First, it proved me that I can write and I do it quite good so I should not be afraid of this task. Secondly, I realized the importance of peer feedback. My friend pointed out the mistakes that I did not notice and in this way improved my work. Now I am more confident writer who often relies on the help of peer reviewers.