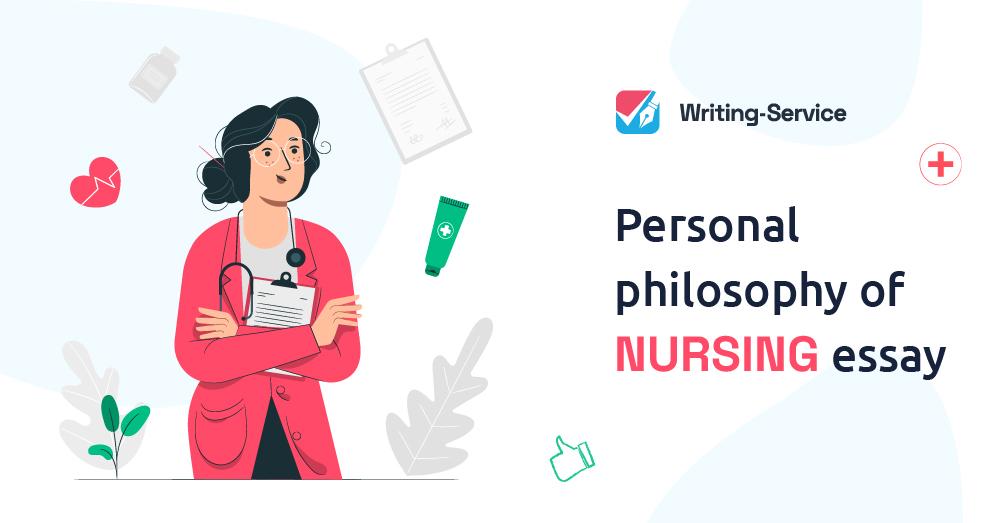 31.05.2022
Submit a Great Personal Philosophy of Nursing Essay with Our Help!
Every person needs to have a personal philosophy. In its essence, it is a set of guiding principles, which define our standards of living, treating the surrounding people, nature, etc. It is very significant for every nurse to establish a personal philosophy that would comply with the needs of the patients. This means that every nurse ought to know how to act in various contexts and situations. If you are pursuing a degree in this field, then writing a personal philosophy of nursing essay will be a part of your daily routine. In such a write-up, you have to state your values, principles, and beliefs that will help you become a valuable asset in the healthcare field.
A lot of healthcare experts have a set of values that guide them through making healthcare decisions, as well as motivate them. As a nurse, you need to outline your values, goals, and beliefs that drive you to become a good professional. In our guide, we will define philosophy of nursing and help you figure out how to create a perfect personal philosophy statement.
What Is a Nursing Philosophy?
Basically, it is a set of values and beliefs that define the nurse as a professional. A personal philosophy of nursing essay is a mission statement that outlines certain moral values. This statement may include information about education, practice, training, career goals, and aspirations, as well as an approach to healthcare. Writing such a paper can be rather challenging. Before you start working on it, you need to study the prompt thoroughly, think about the information you will include in your paper, and look for some personal nursing philosophies on the web.
Why Is It Important to Articulate Your Personal Philosophy of Nursing?
It is difficult to underestimate the importance of having a personal philosophy in nursing. Each person goes to school with certain beliefs and values. They impact our reactions, actions, and decisions. Since the personal nursing philosophy is deeply rooted in professional ethics, it performs several important functions:
It may improve your interaction with patients, their families, as well as your colleagues.
Personal values in nursing, such as respect, dependability, and integrity, you can develop good relationships with other people. For instance, you may use your dependability and help your fellow nurse perform a complicated procedure. Alternatively, you may show your integrity by recognizing your wrong decision and improving the situation.
It maintains your motivation during your professional challenges.
By choosing this career, you will face many difficulties like high-pressure patient situations and long shifts. Yet, once you realize why you have chosen this career, you will be able to cope with these challenges. If you have chosen this career to facilitate the well-being of your patients, you will find the motivation to work during night shifts;
It may enable you to create a succinct and captivating resume objective.
When applying for the educational institution, you may submit a resume with an objective that will highlight your nurse philosophy and explain how your values correspond with the values established by the school. Before you apply, you may review your personal philosophy statement to find answers to the questions that may be asked during the interview.
It will guide your career choices and decisions.
Most probably, the key to your philosophy is the impact you want to have as a nurse. Thus, you may use your mission statement to advance your education, select appropriate roles, earn professional certifications, etc.
Now that you are aware of the answer to the question: "why is nursing philosophy important?", let us assist you in figuring out how to develop your unique personal philosophy.
What to Write in a Personal Philosophy of Nursing?
First and foremost, you need to identify your beliefs about a career in healthcare. To begin with, you need to answer the following questions:
Why have you chosen this particular field, not any other?
Who do you believe a nurse is?
What are the essential qualities of an efficient nurse?
As a nurse, you may need to work under conditions that will be emotionally draining. Very often, patients focus on their healing without paying attention to the nurse`s well-being. Such a situation can lead to conflict. Also, very often, nurses feel depressed when their patients pass away or when they get better and leave.
Your career depends on various factors. As a human being, you have intrinsic values that contribute to your beliefs. Before you start working on a philosophy of nursing essay, you need to understand what this career means to you. Make sure to consider your future interactions with the patients and think about the knowledge that will help you reach your career goals. Writing a perfect example of nursing philosophy essay is impossible without a meticulous brainstorming process.
How to Write a Nursing Philosophy Paper?
If you need to write a nursing philosophy paper, then you have to familiarize yourself with some efficient practices and suggestions that will make the writing process easier:
Take some time to reflect on your personal philosophy
When brainstorming your ideas, make sure to answer the following questions:
Why did you decide to become a nurse?
What does nursing mean to you?
What qualities ought an effective nurse to possess?
Which of my beliefs and values match the career chosen?
What skills do I want to obtain?
Who is my role model as a nurse?
After answering the questions provided in the list, you will understand what information ought to be included in your personal philosophy of nursing essay.
Think about what first interested you in nursing
There are various ways you can be inspired to enter the healthcare field. For instance, you may have relevant experience being treated by a very kind and professional nurse in your childhood or a good nurse could heal your family member. Think back about the moments and people related to healthcare to understand the roots of your passion.
Figure out why nursing is important to you
Nursing is about caring for patients and educating them and their families on health issues. If you are going to become a nurse, you need to understand what duties and responsibilities every nurse ought to have. If you are ready to build relationships with patients and make them comfortable during their treatment, you will succeed in the career chosen.
List your strengths
Now that you know what qualities ought to have a good nurse, you need to create a list of your strengths and decide if any of them correspond with the career chosen. If you experience writer`s block, have a look at the list below. Perhaps, some of the strengths mentioned in the list will help you boost your creativity:
Leadership skills;
Empathy;
Attention to detail;
Time-management skills;
Integrity;
Kindness;
Motivation.
Outline your values
Then, you need to create a list of your personal values that will help you approach your patients. This list may include:
Patience;
Community;
Innovation;
Quality;
Accountability;
Equality;
Teamwork.
Once you have both lists written, you will need to think about how they will help you become a good nurse.
Think about the positive impact you want to have as a nurse
Finally, your "what is my nursing philosophy" essay may include the goals that will motivate and guide you in advancing your career. For instance, you may want to improve human lives by advancing through health education. Also, you may write that by getting appropriate knowledge, you will help people deal with their chronic illnesses.
Consider that the best personal philosophy of nursing essay examples is engaging, comprehensive, and emotionally honest.
Nursing Philosophy Example
Writing a high-quality essay requires a considerable amount of time and effort. To cope with this task successfully, you need to use a well-written philosophy of nursing example. This example will not only help you find out how your paper has to be written but will also expose yourself to professional language.
I find that a successful nurse can effectively combine the art and science throughout their professional career. It means that nursing career requires numerous skills and competencies to provide the best possible care and achieve positive outcomes. My personal philosophy of nursing addresses the society, patient, environment, and person as these metaparadigms enable to understand the essence of the nursing profession, the role of a nurse in the health care environment, and provide the basis for the improvement of patients' health. It has equipped me the realization of how to assist people in getting balance between spirit, mind, and body.

I chose nursing as my profession as I find that my desire to help people, care about them, deal with their problems, and sacrifice for the sake of others is my calling. I am convinced that nursing is a rewarding and honorable career. I seek to provide care to all people irrespective environment, race, ethical and social background, gender, religion, and other characteristics. My personal beliefs and values, for example, honesty, kindness, ability to achieve goals, and persistence will assist me in becoming an effective nurse.

Also, I want to become a nurse as nursing is a challenging profession that requires constant learning. I believe that it is vital for any person to develop, learn new things, and become aware of the modern trends in the chosen career field. Learning has always attracted me, and it will be a great pleasure to develop my current skills and acquire new ones to help people cope with health-related issues. Therefore, I am sure that nursing is one of the most interesting careers for me.

I find that integrity is one of the core components of nursing as it is a strong adherence to a code of moral principles, artistic values, and honesty. Every nursing task requires integrity that presupposes trustfulness and reliability. Also, integrity means being authentic, righteous, and excellent. Hence, integrity is a complex set of values that constitute a framework for the effective nursing practice.

Care is another core component of nursing. A highly-qualified nurse should provide care to patients through the use of certain knowledge and skills. It means that people should get knowledgeable care. The history of care has shown that the concept of care is constantly changing. Also, it cannot always be expressed through words as it deals with making others feel better and do well.

Patients are people who require help and expect to get high-quality care. It means that a great part of nursing work presupposes communication with patients and their families. It is essential to remember that every patient has special needs, including spiritual ones, and it is essential to address them. It proves the idea that a nurse should effectively combine art and science to make a patient feel better, safe, and in comfort.

Moreover, nursing presupposes communication with the patient's relatives and friends. These people play an essential role in the life of patients, and they can help their ill family members overcome diseases and relief pain. In many cases, effectiveness of treatment depends on proper communication between a nurse, health care professionals, patients, and their families. Hence, communication is a key aspect of positive patient outcomes.

I find that the fellow health care providers work in a team to provide the best possible care and treatment options to all patients. All of them have proper skills and knowledge to collaborate to meet common goals. The ability to become and effective member of a team is highly valued in the health care environment.

Since the childhood, I know that people should value their health. Therefore, I have been leading a healthy way of life to be healthy and fit. My health is a good example of how people should look after themselves.

In two years, I would like to improve my skills of time management and become more aware of the current nursing research. I would like to work in one of the hospital getting valuable experience and improving my skills. Also, I dream of continuing my education.

In five years, I want to work as an advanced registered nurse. I seek to help people overcome their diseases and illnesses, and find balance between the body and soul. Also, I find that at that time, I will become a highly-professional nurse who can share knowledge and experience with others.

In ten years, I would like to teach young students to become nurses. Moreover, I want to make some researches in the field of nursing. Research enables to find new treatment and cure for serious diseases. Hence, I would like to become a valuable person in the nursing society.

I have several strengths that can help me achieve my personal and professional goals. One of them is persistence as I am always working hard to achieve my goals. Also, I am a hardworking and dedicated person. I meet deadlines and use creativity to solve problems. Finally, I am reading a lot to become aware of the current trends on nursing and being up-to-date with scientific developments.

I hope that there will be no limitations on my way to achieving professional goals. However, I think that one of the potential obstacles may be lack of time to balance between work, study, and personal life. However, the improvement of time management skills will enable me to overcome this limitation.
Get Professional Help with Writing Your Nursing Essay
If you find it too difficult to define your values in a personal philosophy of nursing essay, you can get always get professional help. Our company offers a great solution to those students, who want to succeed in their studies. To submit a well-written and well-structured philosophy statement paper, you need to place an order at our service and one of our experts will take good care of your request. Buying a perfect nursing philosophy example on our writing platform is a great idea!