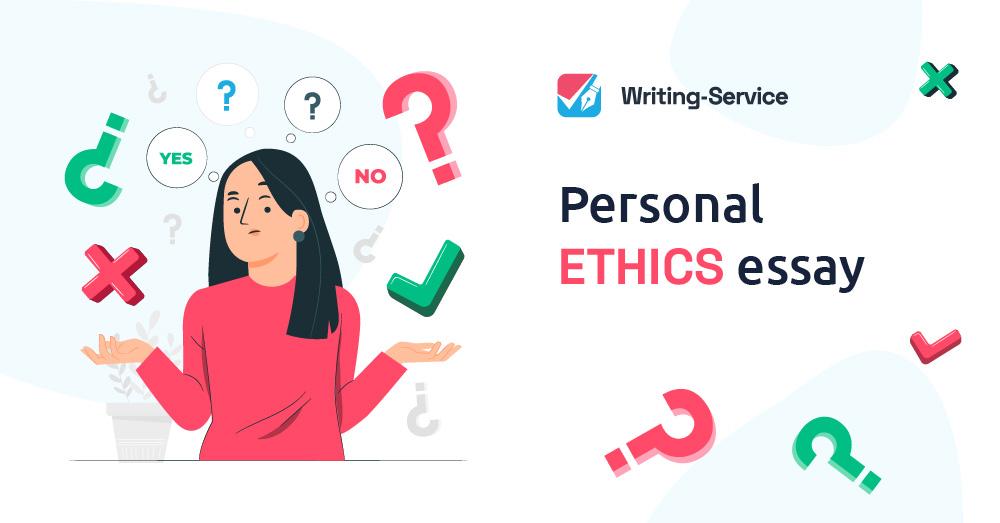 23.03.2022
Personal Ethics Essay Writing or Why Values Form Our Essence
The modern world has many trends, but the most significant one revolves around the disclosure of beliefs and values every decent individual has. It is closely related to the freedom of speech, as the ability to speak about our attitude to various issues makes us unique people with great ideas. If we have values, then we can make a difference. However, it is not enough to have personal beliefs or authentic perceptions unless you share those views and moral principles with others. Before you speak up, you can practice writing a personal ethics essay. As a student, you have the benefit of constant learning. So, an assignment on your ethical strivings and ideals is quite typical within diverse academic settings. You also have to understand that you cannot be silent if something contradicts your values. This kind of composition must encompass strong arguments, which support your point of view and expose controversies, which compromise your stance. Afterward, you have to prove why your values are essential and cannot be undermined.
The skill of writing a personal ethics essay will come in handy in various situations. Hence, it is wrong to perceive it as the usual academic assignment, which serves the only purpose of obtaining a good grade. You may need to write about your values and moral principles in your cover letter or a special piece for a scholarship project. If you want to get enrolled in a particular university, then your admissions essay should be also focused on your ethical perception and personal virtues. You need to know how to elaborate on your ideals, such as empathy, honesty, altruism, generosity, integrity, courage, appreciation, loyalty, among others.
Your main task is to elucidate the most essential values in your life and envision instances when they can be expressed or demonstrated. This type of essay is authentic and thought-provoking. It should display the best qualities you have. Thus, the language should be persuasive and eloquent to impress your target audience from the outset. Although you may be a humble individual not inclined to boast about your virtues, we would like you to learn the fundamental aspects of personal ethics. Subsequently, you will understand why it is crucial not only to adhere to your beliefs but also not to be silent about them.
How to define personal ethics in simple ways
Don't you know how to define personal ethics? You should simply concentrate on the ethical principles, which are important specifically to you. What helps you to make fair decisions? Think about the best decisions you have ever made within private and professional spheres. If you realize what guided you through the favorable choices, you will likely subconsciously list common moral principles. Sticking to certain values makes you a worthy individual within your society. It affects your life in positive ways. It is also directly entwined with helping others, improving your overall well-being, and striving towards higher or even global goals. But how to estimate the importance of personal ethics? For instance, imagine that an individual does not have any values at all. Will such a person be able to distinguish between right and wrong? High chances are you will choose the wrong path if you cannot even imagine what is right. The world would turn into chaos if people did not have any sense of honesty, respect, and responsibility.
List of typically acknowledged personal ethics
Let us focus on personal ethics, which are highly regarded in professional fields:
Respect
The paradox of personal ethics is that it becomes more meaningful when it is related to your interaction with others. Yet, interrelations are everywhere. If you have self-respect, then you will be able to respect others. As a student, you should show respect towards fellow students and professors. As an employee, you have to display respect towards your colleagues and management. It should always work vice versa, no matter your social status. That is how mutual respect between people is formed. An ethical individual respects rights, beliefs, and interests of others. Having respect helps you get rid of any kind of discrimination based on people's ethnic and religious backgrounds, political views, and gender.
Integrity
Being committed to your moral principles even in critical situations reveals such an important trait as integrity. It makes you a reliable and sensible individual within your community. Integrity unites all your ideals and serves as a personal guarantee of adherence to virtuous values. If you breach integrity, then you breach all your ethical principles.
Responsibility
A full-fledged development of personal ethics is impossible without strong responsibility for one's opinions and deeds. Even if you make mistakes, you have to bear liability for your actions. Yet, a decent individual always strives to amend those failures.
Honesty
Honesty is one more important quality every person should possess. It is important to be honest not only with yourself and your closest people but also with every single individual you may interact with. Being involved in lies and fraud never brings good fruits in the end. Thus, honesty is the highest virtue.
Altruism
Although we have to take care of ourselves to be able to take care of others, the virtue of selflessness is of utmost importance. It is a unique kind attitude towards people around us. It is vital to develop altruistic qualities to help anyone in need, especially in critical situations.
Loyalty
If you reflect strong levels of loyalty in all the things you do, it means you will not give up despite the impediments. Loyal people tend to be excellent patriots, trustworthy employees and CEOs, and faithful husbands and wives.
Learn to recognize your ethical principles
Undoubtedly, you are endowed with personal ethical beliefs, but you might have never thought to identify them. We prepared the three steps to facilitate the creation of your authentic example of personal ethics:
Review your priorities. The most important things in your life and your attitude to them usually embody your personal ethics. For instance, if you regard lying to others as something indecent and shameful, then you likely possess such a personal trait as honesty. If you think about the needs and comfort of others first, then you are likely a selfless individual. Create a list of your utmost priorities, and you will instantly discern your moral virtues.
Ponder on your life goals. Although our aims may change from time to time, we tend to have stable personal and professional goals. You can establish exceptional ethical principles when setting goals higher than usual. Think globally. Is there any sphere where you can contribute tremendously? List any noble idea that comes to your mind. You will likely discover your inner loyalty, integrity, and responsibility.
Let your experience reflect your beliefs. Personal beliefs should be enacted in practical ways. It is not enough to have an opinion, as every strong standpoint should lead to a valuable experience.
Tips to compose personal ethics essay
The more you practice writing an essay on personal ethics, the more treasured individual qualities you discover within yourself. It revolves around re-assessment and even reestablishment of your life purposes and general outlook. Gradually, you learn to create a diligent personal ethics statement, which can be applied in both academic and professional spheres. When producing this kind of written piece, you should consider the following aspects:
Share your purpose and experience
As long as you have to concentrate on the ethical embodiment of your personality, you have to avoid sharing some trivial facts. You should write about something life-changing. Ponder on the most profound experience you've ever gained. Basically, focus on the features of your personality, which represent how kind, sincere, and intelligent you are. You can share something autobiographical as long as it revolves around stories of positive influence and precious life lessons. It is significant to determine your target audience. Do you intend to disclose something personal but simultaneously relatable to hundreds of people? Your story should inspire, but its tone should be rather modest in order not to turn your achievements into boasting. Hence, an essay on personal values and ethics should exemplify your good deeds based on your beliefs. It has to be a manifestation of your unique philosophy backed by your accomplishments.
Reflect on your upright traits
This task is easier to complete if you start with a list of your good traits and then elaborate on each quality in detail. Are you faithful, selfless, kind, respectful, empathetic, and tolerant? Then add these traits to your list and think about situations when you usually apply them. If you are too humble to write down your virtues, ask your friends or even professors to list those qualities instead of you. It is beneficial to compare and contrast your strengths and weaknesses as well.
Support your beliefs with practical achievements
It is decent to have beliefs, but you have to embody them in practice as well. If you can provide examples of how you have expressed your beliefs during special events or demonstrations, it will surely attract your readers. It is significant to coherently express your values in the light of your experience. You have to write about your principles in every body paragraph. Your conclusion may be also related to the ethical values you would like to attain.
Experiment with essays on ethics
Even if you were assigned to write a personal ethics essay once, it is good to practice composing them on a regular basis. Set as many decent goals as possible and try to elaborate on them in every new essay. Whenever you gain a new experience where you could demonstrate your moral traits vividly, endeavor to describe it. This way, your autobiography will become more encouraging day by day. Just remember that deeds are more important than words.
Personal Ethics Essay Samples
PASSION: Why am I here?

I had a dream of improving human nature. I saw children and poor people suffer in hospital's beds as a result of diseases and death. I began to develop a positive passion towards those vulnerable persons. Hence, I decided to make the dream come true by advancing my knowledge in the nursing profession. I also realized that for passion to exist for all persons, I'm supposed to view people the same way God does. To have passion means to be devoted to excellence. Generally, in the nursing field, we need passion, the passion for people, and the passion for God. My inspiration originates from the love and kindness expressed by other nurses.

MOTIVATION: What moves me to act?

I have a desire to help people and contribute towards the welfare of the society through healing and comforting those suffering due to ailments. Familiarity with ethics in the nursing profession also assisted me to understand the demands of the nursing sector, such as the Hippocratic Oath. Other demands include keeping patients' secrets, safeguarding their lives among others. Finally, nursing is a dynamic and a challenging occupation, and this moves me to pursue the profession. It motivates me since it keeps on strengthening my faith. In all respects, the above facts are key motivating factors to me.

INSPIRATION: What keeps me in motion?

I saw many patients suffer when I was still young. I witnessed nurses running up and down trying to assist them. They were so great and caring, and at times I even shedded tears observing how nurses cared about the patients. I was touched with what was happening. Henceforth, I developed the desire to help someone's life in the way those nurses did.

LOYALTY: Whom do I serve?

The fact is that my employer has given me duties to perform what I am loyal to, my practice and actions are under the surveillance of God. I must also respect the life of patients, the information about their sickness, to offer my service for the benefits of the sick, and in summary, I will not go against my oath and covenant. Because of this fact, I keep my integrity to serve and take care of my patients in the best way.

In conclusion, respect and integrity are my key values in maintaining my ethical standards with the nursing profession.
Our realm of assiduously written works provides every interested client with a range of personal ethics essay examples. If you find a sample, which coincides with your ethics assignment topic, you can save it as a template for your further work.
Concluding Thoughts
Finally, we believe that we have provided you with some really helpful tips on personal ethics essay writing. Still, it may be a challenge to create a decent paper if you have never completed such assignments before. Hence, it is much more beneficial to address professionals to provide unsurpassed assistance, which is better than any template available! Wordsmiths at Writing-Service.org will scrutinize all your virtues and experience to create a unique essay about your personal moral values. Do not hesitate to choose your perfect writer!